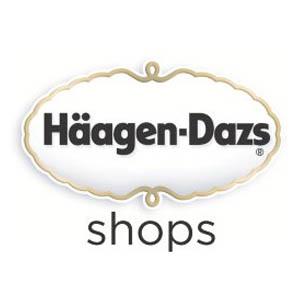 Haagen-Dazs
For more than 50 years, Häagen-Dazs® has been perfecting the art of making ice cream using only the finest ingredients to craft the perfect flavors and creamiest textures. Step into a Häagen-Dazs Shop today to indulge in irresistible creations made with our super premium ice cream and sorbet. Enjoy a full menu of frozen desserts including waffle cones, shakes, Dazzler® sundaes and fruit smoothies or create your own c...
For a Limited Time Only: Peppermint Bark Ice Cream
Valid from October 12, 2017 to January 31, 2018
Peppermint Bark, a Häagen-Dazs® Shops holiday flavor tradition, is returning to Shops for its 10-year anniversary! For a limited time only, Peppermint Bark ice cream will be available at all participating Häagen-Dazs® Shops locations. Enjoy this holiday classic in any of our indulgent, handmade desserts: • Peppermint Bark Milkshake - Handspun Peppermint Bark ice cream with whipped cream and crushed peppermint candy on top – a creamy holiday delight! • Peppermint Bark Dazzler® Sundae – Layers of Peppermint Bark ice cream, hot fudge and chocolate cookie pieces topped with whipped cream, crushed peppermint candy and chocolate cookie crunch – an indulgent holiday treat! • Peppermint Bark Dipped Waffle Cone – Scoops of Peppermint Bark in a waffle cone dipped in chocolate and rolled in crushed peppermint candy pieces – sure to get you in the holiday spirit! • Peppermint Bark Ice Cream Sandwich - A scoop of Peppermint Bark ice cream between two brownie cookies, rolled in peppermint candy pieces – the perfect holiday pairing!
---
Haagen Dazs Special Offer
Valid from November 1, 2017 to November 22, 2017
Mention or show this offer from our mall website, and you'll receive $1.00 off on any Frozen Beverage or Dazzler. And $0.99 coffees & fountain sodas!!! Offer cannot be combined with any other offer. Offer expires: 11-22-17 Exclusion may apply. See associate for details.
---