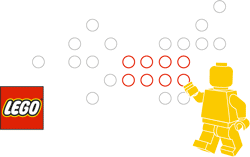 LEGO MONTHLY MINI MODEL BUILD
November 1, 2016 through November 2, 2016
In order to sign up guests must now have a registered LEGO VIP email address. If you do not have one you can create one for free at shop.LEGO.com/VIP.
This event has limited space. To reserve a spot, visit shop.LEGO.com/Minibuild-Registration starting October 15. Due to safety and build experience standards, builders must be between the ages of 6-14 to participate.
The mini model must be completely built in store. Registration is on a first come, first serve basis and quantities are limited.