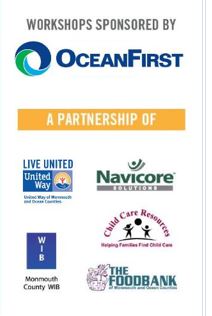 Jumpstart Your Job Search @ Financial Success Center
September 26, 2017 10:00 AM - 1:30 PM
Resumes are not the only things that count when applying for a job. The workshop discusses all parts of job search for 2017, including networking, personal branding, job boards, resume revision and interview skills. Take your average job search up a notch to learn about changing trends and the employer perspective, and implement these ideas, so you can land a new job that you love.
SPEAKER: Christine Dykeman
PRESENTED BY: Monmouth County Division by Workforce Development
Registration: This workshop is FREE, however, registration is required. Please call Workforce Development @ 732-683-8850 x-6011.