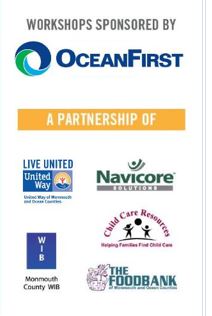 Financial Success Center Linkedln for Beginner
January 30, 2018 10:00 AM - 1:00 PM
LinkedIn is used for networking in social media. It
is a job search tool and a Career Management tool. This 3hr workshop will show you how to join LinkedIn and manage your professional identity. We will explore the many ways that having a presence on LinkedIn can enhance your job search.
**You must be computer literate to attend this workshop
**Jumpstart Your Job Search is a suggested pre-requisite.
Tuesday
January 30, 2018
10:00am-1:00pm
Speaker:
Christine Dykeman
Employment Counselor
Presented By:
Monmouth County Division of Workforce
Development
Registration:
This workshop is free, however, registration is required
Please call Christine Dykeman@
732-683-8850 ext. 2525 or
email @ Christine.dykeman@dol.nj.gov