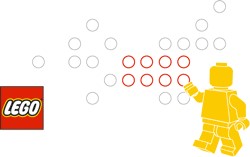 LEGO APRIL EVENTS
Now through April 30, 2018
April 1-15: FREE EXCLUSIVE LEGO MINIFIGURE FACTORY SET with a purchase of $75 or more. Offer Valid April 1-15 or while supplies last. One per guest. See a Brick Specialist for details.
April 1-22: Garmadon Temple Take Down Event. Test your skill w/the new Spinjitzu Spinners. Customize your spinner, learn different techniques and get your name on the leaderboard by setting the high score. All participants will receive an event specific sticker in their LEGO passports.
April 3-4: VIP MINI MODEL BUILD. In order to sign up, guests must have a registered LEGO VIP email address. If you do not have one you can create one for free @ shop.LEGO.com/VIP. This event has limited space. To reserve a spot, visit shop.LEGO.com/Minibuild-Registration starting on March 15th. Due to safety and build experience standards, builders must be between the ages of 6-14 to participate. The mini model must be completely built in store. Registration is on a first come, first serve basis and quantities are limited.
April13-May3: FREE DARTH VADER POD with a LEGO Star Wars purchase of $60 or more. Offer valid April 13-May 3 or while supplies last. One per guests. See a Brick Specialist for details.
April 16: MINI SWAP MONDAY! See a Brick Specialist for details.
April 21 and April 28: Join us for a LEGO Life Meeting to meet other LEGO fans and test your building skills. You'll get to build the April mini model and use your creativity to make it your own. Then upload your creation to the LEGO Life app to share it with LEGO fans across the country and for a chance to win one of two $50 LEGO Store gift cards! This exclusive event has limited space so please sign up early! Registration is $10 per child. Open to children ages 6-14 only. Registration begins March 1.