Summer of Fun Concert Series
August 8, 2023 6:30 PM - 8:00 PM
|

Outdoor Village by The Cheesecake Factory & LL Bean
---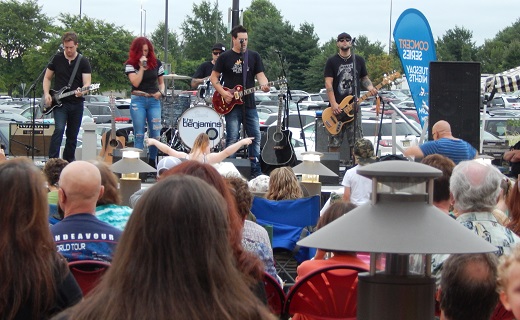 Summer of Fun Concert Series
at Freehold Raceway Mall!
Tuesday nights from July 11 through August 22
6:30 PM to 8:00 PM* Outside Village by The Cheesecake Factory
Freehold Raceway Mall's Summer of Fun Concert Series is back! Bring your lawn chairs, grab a bite to eat and get ready for an evening of fantastic music. While you're there, hang out with 94.3 The Point crew, play games, visit our vendor booths, shop our retailers and order dinner or treats from the mall's diverse range of restaurants.
*Rain dates for concerts take place on the following day at the same time, with the exception of the August 15th concert. Check the alert HERE or this page for changes in schedule due to weather conditions.

July 11 – Eddie Testa Band (Rain Date July 12)
The Eddie Testa Band is a New Jersey-based group known for their dynamic performances encompassing dance, rock, soul, rhythm and blues. Led by Eddie Testa, a seasoned musician and vocalist, the band captivates audiences with their diverse repertoire and engaging stage presence. Their high-energy shows encourage crowd participation, creating a fun and lively atmosphere.

July 18 – The Benjamins (Rain Date July 19)
The Benjamins are a New Jersey-based band known for their energetic performances and diverse musical style. With a blend of rock, pop, and dance genres, they captivate audiences with their impressive musicianship and charismatic stage presence. The band delivers a memorable experience for fans of live music, covering popular songs that get the crowd dancing and singing along.

July 25 – Mission Dance (Rain Date July 26)
Mission Dance is a vibrant and energetic band based in New Jersey. Specializing in dance music, they bring a diverse repertoire of popular songs from different eras and genres. Composed of talented musicians, their professional and engaging performances create an electric atmosphere that gets the crowd moving. Mission Dance guarantees a memorable experience with their dynamic stage presence and infectious rhythms.

August 1 – Phil Engel Band (Rain Date, August 2)
The Phil Engel Band is a talented band based in New Jersey. Known for their captivating performances, they bring a unique blend of musical styles to the stage. With their skilled musicianship and soulful vocals, the band creates a memorable experience for their audiences.

August 8 – Screaming Broccoli (Rain Date August 9)
Screaming Broccoli is an energetic and dynamic band based in New Jersey. With their high-octane performances, they deliver a blend of rock, pop, and alternative music that gets audiences moving. Known for their powerful vocals and impressive musicianship, Screaming Broccoli brings a unique and engaging experience to their shows.

August 15 – The Nerds (no Rain Date)
Get out those pocket protectors and tape up those glasses, The Nerds are back! Known for their diverse repertoire and ability to cover a wide range of musical genres, The Nerds bring a unique blend of rock, pop, funk, and party music to their show. Their engaging stage presence and humorous banter with the audience make for a memorable experience.

August 22 – The BStreetBand (Rain Date August 23)
The BStreetBand is a renowned New Jersey-based band that pays tribute to the music of Bruce Springsteen and the E Street Band. Known for their authentic renditions and capturing the spirit of Springsteen's live performances, they deliver an electrifying experience that honors the legendary sound of The Boss.
Blood Drive
June 2, 2023 11:30 AM - 7:00 PM
You have the power to save lives! At this time it is essential to keep our blood supply available to...
Stephanie Nicole Parze Foundation Vendor Fair
June 3, 2023 9:00 AM - 4:00 PM
Stop by the Stephanie Nicole Parze Foundation Vendor Fair on Saturday, June 3rd from 9AM to 4PM. Par...